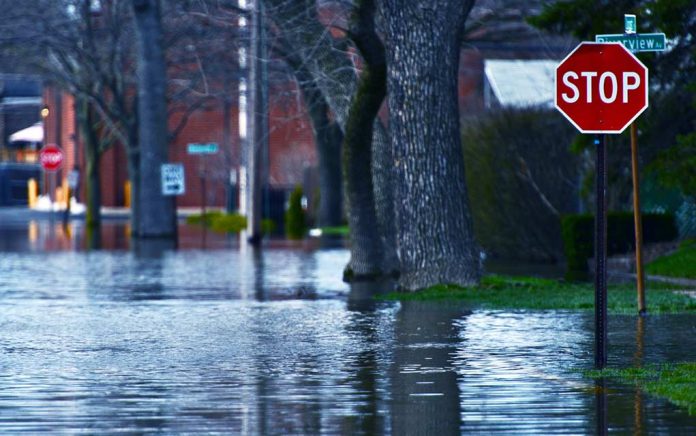 (TacticalNews.com) – Disaster can strike anywhere at any time, even during a pandemic. Recent flooding in Michigan has caused about 10,000 Americans to be displaced from their homes due to the ensuing evacuation. Fortunately no injuries or fatalities have been announced. Although, the full impact on the city and its citizens has not yet come to fruition.
The city of Midland, Michigan boasts a population of about 42,000 people. Michigan's Governor, Gretchen Whitmer, warned that the city could end up under 9-feet of water by Wednesday evening. Michigan has been a hot spot for COVID-19, with about 52,000 cases and 5,000 deceased. Gov. Whitmer has advised people to continue social distancing, but did lift the lockdown.
Midland County Central Dispatch issued a warning telling residents to leave their homes due to inevitable dam failure. The warning came at around the first hour of Tuesday morning around 12:22 A.M. on May 19th. Residents living near Sanford Lake and Wixom Lake were advised to evacuate and seek shelter in two area schools. Around 6 P.M. an impoundment on the Edenville Dam gave in to the immense amount of water — forcing the residents of Edenville and Sanford to leave immediately.
When It Rains It Pours
If the Edenville Dam failing wasn't enough, Governor Gretchen Whitmer had to declare a state of emergency. The Midland County Sanford Dam began to have flood waters actually flow over the top of the impoundment. Midland City Manager, Brad Kaye, stated the dam was still overflowing on Wednesday. He added it was hard to assess any damage with the structure being underwater. Kaye warned if the structure failed, there would be a much higher surge of water.
The declaration of emergency on Tuesday, brought in the National Guard to help after the collapse of the Edenville Dam and the overflowing of the Sanford Dam. The governor told residents to "Please, get somewhere safe now," as she urged people to evacuate. On May 20, with water levels continuing to increase along the Tittabawassee River, Midland County officials reported that even more would need to vacate.
Wednesday morning at 6:36 A.M. Midland County Central Dispatch issued a warning stating the Poseyville dike was broken. Residents in Ashby were urged to evacuate the area. In Saginaw County, officials have warned if the Sanford Dam fails, flooding will get worse downstream. Several Saginaw County roads already have standing water as water levels continue to increase.
In Arenac County the Sheriff's Department is currently in the process of diverting incoming and outgoing traffic in the area due to extensive flooding. The county also had a major amount of flooding earlier in the week.
Many areas of the Midwest are under flood warnings, though not nearly as severe as Central Michigan. Good Morning America shows the devastation in Michigan.
Presidential Praise
President Trump took to Twitter, acknowledging, and thanking, first responders. Wednesday morning President Trump tweeted:
https://twitter.com/realDonaldTrump/status/1263114522925154307
President Trump is scheduled to visit a Ford manufacturing plant in Ypsilanti Township. Trump is also set to have a meeting with national and Detroit-area African American leaders to discuss relief efforts to help communities recover from the COVID-19 pandemic.
Proactive Is Better Than Reactive
The Edenville Dam had its hydro-power generating license revoked in 2018. Federal regulators revoked the license due to the owner's failure to fix safety problems. The dam's ability to withstand a major flood was insufficient and was a major cause of the revocation, citing years of neglect. The Midland County dam failures are just the tip-of-the-iceberg; there remains an underlying problem in Michigan.
The American Society of Civil Engineers' 2018 report card of Michigan dams shows an improvement from its 2009 D-grade. Though it was still, stated Michigan has persistent issues. Around two-thirds of Michigan's 2,600 dams are older than their 50-year lifespan. That number will increase to about 80% in the next five years. Michigan is home to 19 high-hazard dams in poor condition ranking 20th among 45 states and Puerto Rico in 2018.
Torrential rainfall produces heavy runoff, causing water levels to increase rapidly. This, combined with aging dams, is a big problem considering the Great Lakes just had their wettest five year period on record.
Bad For Business
Dow Chemical has been headquartered for more than 120 years in Midland with the main plant sitting along the city's river. The business is more than just a business; it's a community staple. There is a high school named after the company's founder and their mascot is the Chemics. Many community amenities have been founded by a Dow foundation, including a botanical garden, and the city's mid-century modern structures, designed by Alden B. Dow.
The company has many facilities in the area and employs 9,000 people in Midland. Unfortunately, on Tuesday, Dow shut down all operations and units, excluding those needed to contain chemicals, as Dow spokesman Kyle Bandlow stated. He added there have been no signs of any chemical releases. Though the flooding will likely become a large setback for the Superfund cleanup, Professor Allen Burton of the University of Michigan said.
The federal Superfund investigates and cleans up toxic waste, floodwaters have mixed with Dow's contaminated floodplains and sediments. This has resulted in dioxins being released along 50 miles of the Saginaw and Tittabawassee rivers to Lake Huron's Saginaw Bay. Dow along with the state Department of Environment, and the Great Lakes and Energy, will have to determine where the dioxins carried and moved to.
Overall there's a great deal of destruction caused by Michigan's recent floodings. If the state's deteriorating dams aren't fixed soon, there could be many more floods like this in the coming years. Thankfully, people were able to safely evacuate, but this is just another setback as America works to fix its damaged economy.
Copyright 2020, TacticalNews.com