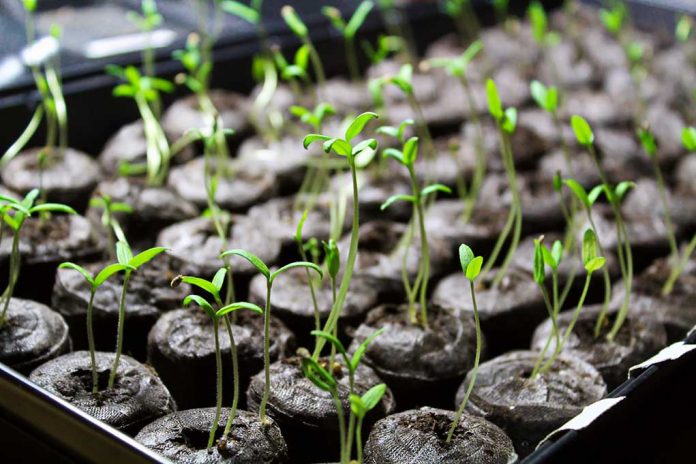 (TacticalNews.com) – With the weather warming up, many people are looking to get their gardens started. Some people go out and buy seed starters, but you don't have to. In fact, there are plenty of alternatives that are free. Check them out below!
DIY Seed Starter
Who doesn't love a good do-it-yourself project? Well, this is the perfect opportunity to unleash those crafting skills, and there are a few ways you can make your own seed starters. One option is to use newspapers. Let's go over how you can make seed starters using newspaper.
The first step you need to take is to stack four newspapers and cut it into thirds, lengthwise. Next, you'll place a can on one stack; be sure to leave about an inch at the end and roll the can with the paper until it's loosely wrapped. Now, fold the ends of the paper over the can all the way around until all edges are firmly bent.
Flip the can to where it's right side up and press down the folds to crease the paper at the bottom. Now, you can slide the can out of the paper, and you'll have a biodegradable pot! The pot may seem flimsy at first, but once it's filled with soil and moistened, it will strengthen up. The best part about these pots is that you can plant them into the garden as well.
Upcycling
With upcycling, you're effectively taking something and using it for something aside from its intended purpose rather than throwing it away. One great example of this is using plastic bottles to start seeds. Here are some other great upcycling opportunities for starting your seeds:
Baby food jars
Cardboard boxes
Egg cartons
Soda cans
TP/paper towel rolls
Of course, these are only a few of the options. There are plenty more out there. In all fairness, just about any container will do the trick as long as it's the appropriate size.
Final Notes
As you can see, there are plenty of options out there for starting seeds rather than going to the store and buying starters. Of course, if you already bought some, be sure to keep them as you can use them again next year. After all, we can have a tendency to throw away items we can use again.
For example, check out how useful plastic bags are beyond simply carrying items from the store to your cabinet.
Copyright 2021, TacticalNews.com