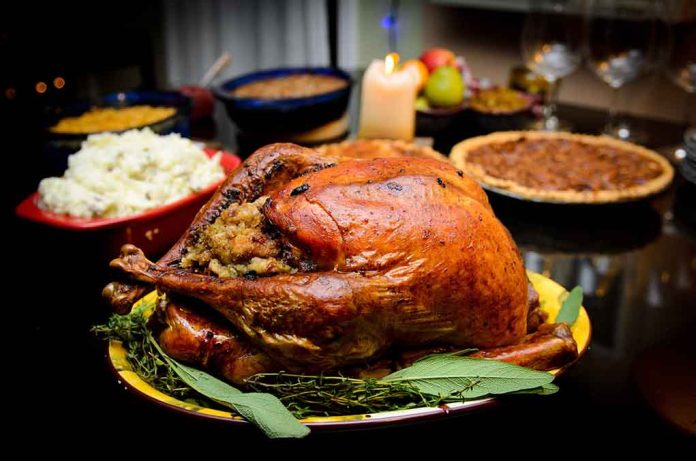 (TacticalNews.com) – Thanksgiving is a wonderful holiday that brings families and friends together. Sure, there might be a few arguments here and there, but at least it's an opportunity to spend time with family.
While a simple disagreement over politics may lead to heated tempers, it's nothing compared to the dangers of deep-frying a turkey.
6 Serious Dangers
Thanksgiving is the number one holiday for residential building fires, and deep-frying a turkey is a fast way to join in the statistics. The National Fire Protection Agency (NFA) recommends avoiding this cooking method altogether. When you look at the facts, it's easy to see why. Here are six dangers you face when deep-frying a turkey.
Kids or pets getting burned.
Pot tipping over.
Oil splashing or spilling over.
Overfilling a cooking pot.
A very hot fryer.
Defects in the thermostat and possible combustion.
These dangers can result in serious injuries. In fact, many of the injuries involved with deep frying a turkey result in third-degree burns. Additionally, if your pot tips over, the oil has a chance of making contact with the burners and potentially combusting into uncontrollable fires. The same goes for a pot that is overfilled, or the oil may splash and spill over.
Kids and pets are curious and like to touch things to explore them. For that reason, be sure to keep your curious critters and kids away from the deep fryer. Noses and hands are very susceptible to burns. If hot oil makes contact with your eye, it could cause serious harm, possibly even blindness. So be sure to wear the proper eyewear if you plan on deep frying your turkey this holiday season.
A Little Safety Goes a Long Way
If you choose to deep fry your turkey and go against the NFA's recommendations, you can at least do it as safely as possible. Here are some suggestions for decreasing the risk of injury.
Wear protective gear. Wear goggles to protect your eyes, a flame retardant long sleeve shirt, and grilling mitts. Wearing a leather apron is also recommended.
Defrost the turkey thoroughly. Failure to fully defrost a turkey will result in the hot oil erupting when contact is made with ice crystals, potentially causing a fire or severe burns.
Always keep an eye on your deep fryer. Pets and children should not be allowed near the fryer at any time. Keep an eye on the thermostat and immediately turn the fryer off if it gets too hot.
Follow the recipe directions. Always follow the directions and never use more than the recommended amount of oil.
Location is everything. Make sure your fryer is a sufficient distance from your house. It should be no closer than 10 feet away from siding and decks.
In addition to following these safety tips, be sure to have a fire extinguisher nearby in case of a fire. If you or someone else catches on fire, be sure to utilize the stop, drop, and roll technique to smother the fire. If combustion occurs and the fire can't be contained, call 911 immediately and evacuate everyone from the yard. You should always see a doctor if anyone receives a burn when deep-frying a turkey.
Final Notes
Thanksgiving is a traditional holiday, so don't let deep frying a turkey turn it into a tragedy. With Thanksgiving and Christmas right around the corner, have you decided what to get for friends and family for the holidays? If you haven't, check out our article on a great place to shop for the outdoors enthusiasts in your life.
Copyright 2021, TacticalNews.com