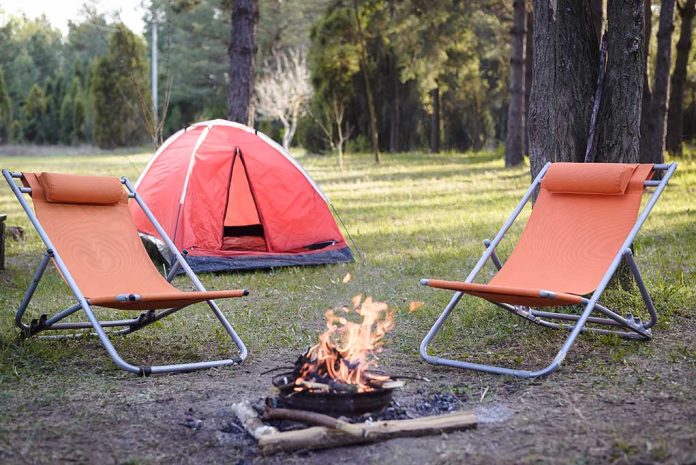 (TacticalNews.com) – Camping is a great way to experience what nature has to offer. But, at the same time, camping can quickly get ruined or become not-so-great when people forget to pack necessary items. New campers typically make the most mistakes, which is entirely understandable. So, here are some camping basics to keep in mind.
First and foremost, you need to dress suitable for outdoor conditions and pack additional clothing — weather-appropriate, of course. While you can technically camp out without a tent, we recommend using one to keep not only the bugs off you, but any other unwanted critters.
Be sure to pack plenty of food and water to last your entire trip as well. Nobody wants to make a midnight snack run from the middle of nowhere.
Be sure to pack a sleeping bag to stay warm. Even in the summer, nights can get chillier than you might expect in the great outdoors. Sleeping pads are optional, but they definitely make a world of difference. Pillows are also a must as no one likes waking up with a stiff neck.
Pack toilet paper; sure, it takes up a little space, but TP is better than accidentally using poison ivy. If you're camping at a campground with showers, or plan on swimming, remember to pack a microfiber towel, they're easy to pack and dry quickly. First-aid kits are a given, and you should always take one with you while camping. Also, include sunscreen as well as bug spray, to help protect you from outdoor elements and pesky insects
Camp lighting, such as solar, hand-crank or even battery-operated, is a great way to see what you're doing when the sun goes down. Chairs and tables built for camping can improve your experience and make it easier to process or eat food.
Speaking of food, be warned that wildlife, especially raccoons and bears, will be able to smell your food and may possibly come visit your campsite. Be sure to check out how you can avoid sharing your food with crafty critters.
Do you have any funny or unusual stories from a camping trip you would like to share? Reply to your email and let us know! We would love to hear from you!
Copyright 2021, TacticalNews.com