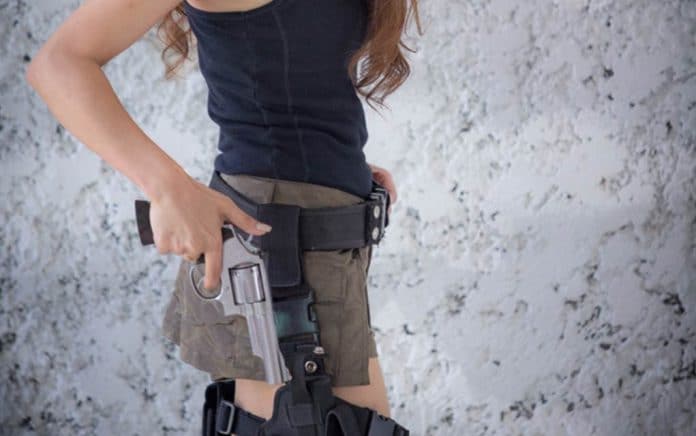 (TacticalNews.com) – Conceal carrying a firearm allows you to protect yourself without everyone knowing you're armed. In order to conceal carry, you need the right clothes for the job to avoid printing. This can be a difficult task for some females due to their small frames and body structures, but it's not impossible.
If you're interested in concealed carrying but don't want to revamp your wardrobe, don't worry; you won't have to. There are several options available for women to effectively conceal their firearms.
It really depends on what you want to wear and the firearm you have; a larger firearm is harder to conceal no matter what you wear. If you want to wear jeans, you can wear inside-the-waistband (IWB) or outside-the-waistband (OWB) designs along with other types of conceal holsters; an OWB isn't a concealed holster in nature, but a long, flowing shirt can easily conceal a firearm OWB.
Belly band holsters are great for just about all outfits except dresses. Winter months make it easier to conceal carry, but you need to make sure your firearm is easily accessible. For dress and skirt wearers, a bra holster or thigh holster is perfect.
Remember that a bra holster likely isn't a good option if you have a dress that goes up to your neck. Even a mini skirt can be enough to conceal a firearm as thigh holsters are available for both inside and the outside of the thigh.
In the end, it doesn't matter what your wardrobe looks like as long as you have the ideal holster. If you're trying to decide between open and concealed carry, check out the pros and cons of both.
Copyright 2022, TacticalNews.com