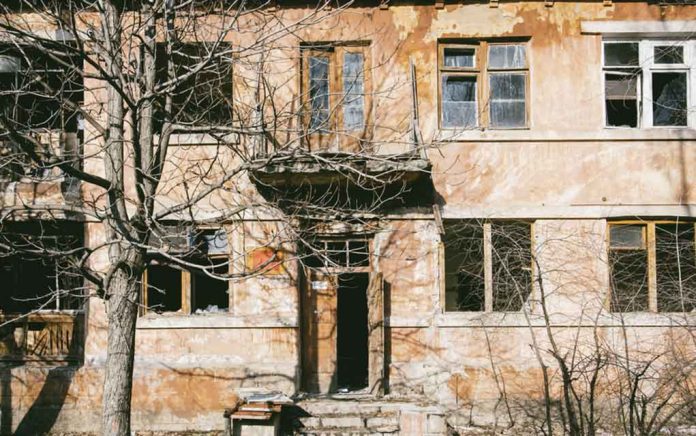 (TacticalNews.com) – In a survival scenario, having an escape from the elements should be a top priority. Extreme heat or cold can become deadly in a matter of hours. Depending on the location and the type of emergency you find yourself in, abandoned buildings can be a great place to hunker down. But they also come with dangers of their own.
The Advantages of Sheltering in an Abandoned Building
The main advantage of sheltering in an abandoned building is that the structure provides four walls and a roof. This will keep you relatively safe from the wind and rain, plus provide some level of insulation from colder weather.
As an added bonus, an abandoned building isn't a shelter you have to build yourself, which saves you precious calories and time — particularly if you aren't certain when you'll have your next meal. Depending on the scenario, you may even find food or other essential supplies hidden away inside the building. In a post-apocalyptic environment, there's a good chance the residents fled in a hurry and left some goodies.
Abandoned buildings also produce a defensible position. Their walls provide concealment and possibly cover, depending on the building materials (such as cement blocks). The building could also provide an elevated position to fire from if necessary.
Disadvantages of Abandoned Buildings as Shelters
Generally, buildings are abandoned for a reason. Structural damage could make them a dangerous place to be. Collapsing floors, stairs and/or ceilings in dilapidated structures pose a risk of injury. A run-down building could become a death trap if a fire breaks out, especially if a fire department isn't available to help.
Taking up residence in an abandoned building means you're probably not the only person or group with that idea. Other people could be interested in the space as well, from survivors looking for shelter to looters seeking supplies (from the building or any unfortunate inhabitants). Wild animals could also be calling the place home, many of which could become deadly opponents when threatened.
Sweep the Building
If the benefits of taking shelter in an abandoned structure outweigh the possible threats, you'll still need to check the place out before you set up camp. Note potential hazards such as broken glass, damaged floorboards and scattered debris.
One often overlooked threat in an emergency situation is tetanus. A misplaced step onto a rusty nail could be fatal without the proper medical treatment. Watch where you step and wear work gloves and protective footwear if you have them.
When occupying an abandoned building, check each room carefully to ensure no dangers are lurking there. Take special care in areas such as doors and hallways, where it's easy to set and spring a trap. Being aware of your surroundings can help protect you from individuals that may inhabit the building.
Once the building has been cleared of danger, make sure you know where the exits are. If a fire breaks out, a looter arrives, or some other unforeseen danger arises, being able to escape quickly is a must.
The value of shelter in any kind of survival scenario cannot be overstated. In fact, it's the first and most important thing to secure when SHTF. To find out why shelter is so important, check out this article on the rule of three for survival.
Would you ever consider taking shelter in an abandoned building? Reply to your email and let us know, we would love to hear from you!
Copyright 2021, TacticalNews.com