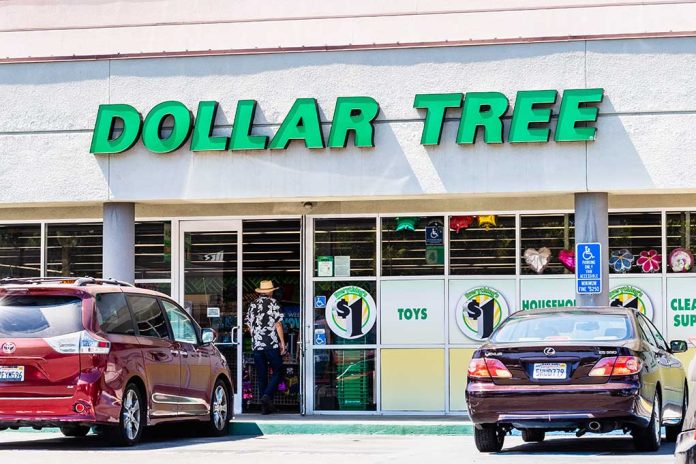 (TacticalNews.com) – Spring is finally here, and there's no time like the present to stock up on survival supplies. There's no telling what this season has in store for any of us — t-storms, tornadoes, or another form of disaster. When it comes to finding and purchasing SHTF supplies, your local dollar store can't be beaten. Don't believe us? Read on to discover several items you can get for next to nothing at your local discount store.
Water
Water is essential for survival, and you can purchase it at a reasonable price at the dollar store. Most stores offer a choice between spring water and purified water. We recommend getting natural spring water because it contains various valuable minerals. On the other hand, purified water contains chlorine, which can kill good bacteria. You can also find plenty of containers to hold water at the dollar store.
Clothing
Believe it or not, you can find some pretty decent clothes at the dollar store. Sure, they're not always the most fashionable. But they serve their purpose, and fashion doesn't play a part in your survival anyway. The country is heading towards warmer weather and you can always find appropriate clothing for spring and summer. You may want to go ahead and stock up on any winter clothing you might find on sale too. You won't find heavy down jackets and the like, at dollar stores. But you can always layer up, which is recommended for cold weather anyway.
Fire Starting Equipment
Dollar stores carry an abundance of items you can use to start a fire. You can find lighters and matches at every dollar store, and sometimes you can find some camping fuel. Go to the bathroom section, and you'll be able to find vaseline and cotton balls too, which are great for starting a fire when combined. You can purchase a magnifying glass or a water bottle to ignite them.
Hygiene
There's a natural tendency by many to overlook hygiene when stocking up on survival supplies. Your options may be limited at the dollar store when it comes to finding your favorite toothbrush, toothpaste, and the like. However, it's an inexpensive way to stock up for lengthy SHTF events. You can also buy towels, washcloths, soap, shampoo, and mouthwash at your local dollar store.
First Aid
People usually don't overlook the need to purchase first aid items. However, it's easy to forget essential things since you need to prepare for a variety of situations and ailments. Important items to look for include:
Cough Drops
Pain Relievers
Hydrocortisone Cream
Cold Packs
Tweezers
Antacids
Triple Antibiotic Ointment
Food
We're not suggesting you purchase all your edibles at a dollar store. However, they are a great place to purchase a selection of food items with a long shelf life. Canned foods are for long-term storage, and dollar stores are filled with them. They also stock a decent supply of dried foods like ramen noodles and beef jerky.
Miscellaneous
Dollar stores are great places to find items with multiple uses. For example, you can use duct tape to patch holes in your shelter or clothing, to bind objects together. Bungee cords, twine, and zip ties have multiple uses too and are available at the dollar store.
You can find other useful items like tire plug kits, aluminum foil, and zip lock bags at dollar stores. You can also purchase entertainment items such as playing cards or board games. Use your imagination, or take a few minutes to walk the aisles and consider what other items might be useful in a SHTF situation.
Final Notes
The dollar store can be a great place to find several of the items you need to prepare for a worst-case scenario. If you're interested in prepping but aren't sure where to start, check out this article covering some of the basics and get started today! You can also check out some other ways to prep on a budget!
Copyright 2021, TacticalNews.com