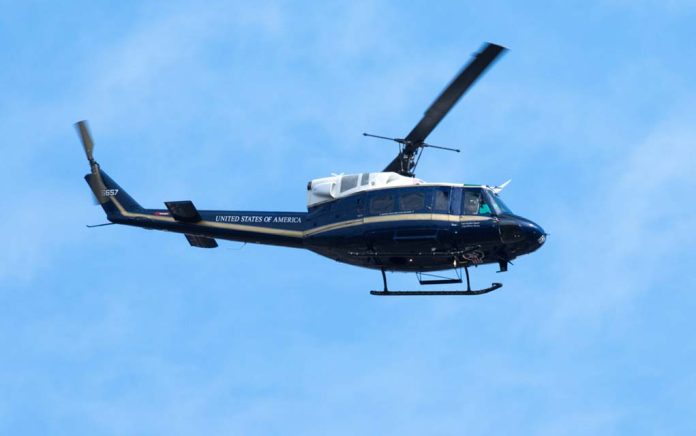 (TacticalNews.com) – In an unprecedented event, a helicopter belonging to the US Air Force (USAF) had to make an emergency landing. It's not uncommon for the US military to take ground fire while flying over an area. However, this time is different… completely unexpected, and to be honest, very concerning.
What Happened?
Earlier this week an Air Force helicopter was forced to make an emergency landing while flying over Virginia after taking fire. That's right, a United States Air Force helicopter took gunfire while flying over the state of Virginia. Government officials confirmed the incident and stated the helicopter had to make the emergency landing because a crew member aboard the chopper was injured. The helicopter, a UH-N1 Huey from the 1st Helicopter Squadron, was forced to land in Manassas at 12:43 pm. The base where the helicopter was stationed, Joint Base Andrews in Maryland, issued the statement.
Thankfully only one aircrew member suffered a minor injury; the helicopter sustained minor damage as well, as reported by McClatchy, first to report the incident. He added the helicopter had landed safely and the incident is currently under investigation.
The Washington Field Office of the FBI sent several special agents, along with its Evidence Response Team (ERT) to the airport where the helicopter landed. The agents were sent immediately after the report that a helicopter was shot from the ground near the airport. The FBI and the Air Force Office of Special Investigations are working together to form a probe into the incident.
Officials at the Manassas Regional Airport stated they received a call around 12:20 pm, letting them know a Huey was conducting an emergency landing at their airport. They let the airport know that EMTs were on their way as well. McClatchy reported that the Huey is still at the airport as the investigation continues.
The Naval Criminal Investigative Service, in March, observed a woman using a rake with multiple strobe lights attached, pointing it at military pilots to distract them, also in Virginia; the woman was arrested.
It's concerning to think that people would attack the very people that protect them. Of course, not everyone agrees with what the military does, but that doesn't fall on the shoulders of our service members, rather on their superiors. It's a sad day in America when our own military can't feel safe in the country they call home.
Copyright 2020, TacticalNews.com