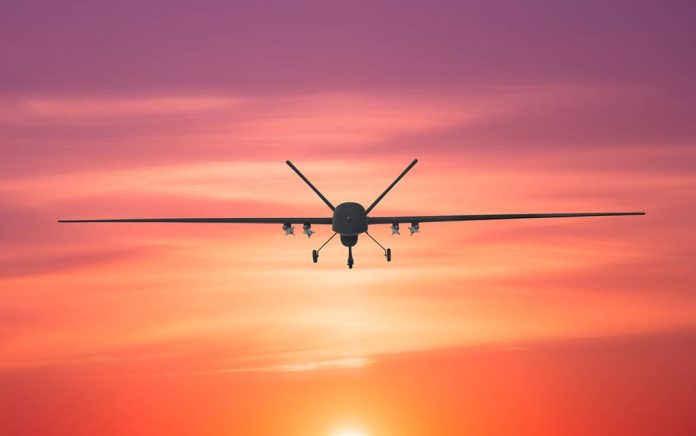 (TacticalNews.com) – The United States Air Force (USAF) is known for pushing the boundaries of military possibilities. After all, the best way to become the best is through practice and that practice is about to become even more intense. The USAF has implemented drones into warfare nicely, killing Iranian General Qassem Soleimani with a drone strike for example, but this new development is next-level action.
Air Force Will Pit a Drone Against a Fighter Jet in Aerial Combat Test https://t.co/DzUzaXjFBs

— 21BigGuns (@21BigGuns) June 11, 2020
Head of the Pentagon's Joint Artificial Intelligence Center, Lt. Gen. Jack Shanahan, gave a statement saying the Air Force research lab is working on an autonomous system to compete with a human system.
This is something that has never been done before, but the USAF looks to set the showdown for July 2021. The USAF wants to change the way we view warfare and the battlefield. Dr. Will Roper isn't shy when it comes to talking about how the service's Skyborg project could augment the already advanced F-35 Joint Strike Fighter and the F-22 Raptor teams on a strike mission.
Dr. Roper, who is the assistant secretary of the Air Force for acquisition, technology, and logistics, added that no one has ever flown with a digital pilot. The Skyborg project looks to pair a human pilot with AI. This AI would train with its pilot, act as a co-pilot, make split-second calculations and decisions, and possibly take command if needed.
Roper added there had been ongoing discussions about sixth-generation aircraft which would be the successor to the F-35 and F-22. He believes this new program is going to be the hallmark of the next generation of aircraft, finishing his statement by saying "the roots of the Air Force are all about breaking boundaries and doing new things."
Copyright 2020, TacticalNews.com