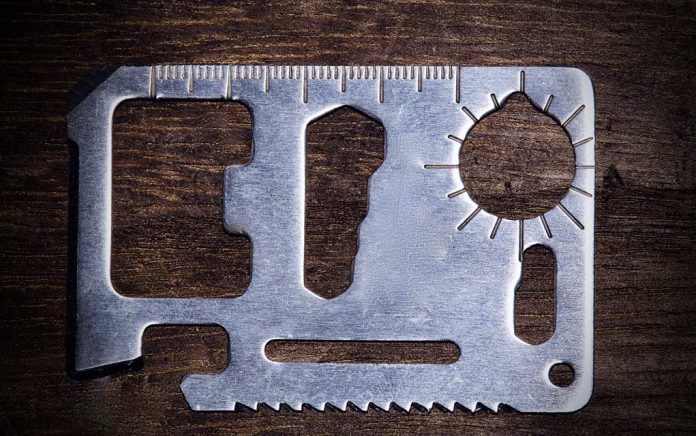 (TacticalNews.com) – Gerber picked the right man when they wanted someone to endorse their survival equipment. Despite how his show "Man vs Wild" is filmed, you can't take away the fact Bear Grylls knows what he's doing. Easy to store and easy to use, this card tool is a need to have, for any outdoor enthusiast.
Features
The card tool's steel construction means its design is thicker, and heavier (weighing 2.7 oz.), than a normal credit card, but is still easy to carry. It comes with:
A very sharp knife with a comfortable handle
A ferrocerium striking rod for starting fires
Philips and flathead screwdrivers
A 1-lumen LED flashlight
A highly-essential bottle opener
Imperial and metric measuring marks etched into the frame
The knife is small by necessity, but that doesn't make it any less useful. In fact, smaller knives are ideal for descaling fish, skinning some animals, chopping small vegetables, and precision cuts. This Bear Grylls card tool even comes with his "Priorities of Survival" pocket guide in case you need some pointers.
Pricing
The card tool can be purchased for around $25. Given the tools and capabilities included with this card tool, the price seems pretty fair. There may be a slight increase in price compared to other similar tools simply because of the brand. However, Gerber has been known to make quality tools. Plus, having Bear endorse it is probably a good sign.
Conclusion
Overall, this card tool is awesome and great for a light daily carry kit. The construction is solid and the knife has good ergonomics. You can really do a lot with this simple tool; combine that with its size and how easy it is to carry, we're gonna give it an astounding 10/10. There's a number of problems this little tool can tackle, and it isn't extremely high-priced making it attractive even to budget survivalists.
Copyright 2020, TacticalNews.com