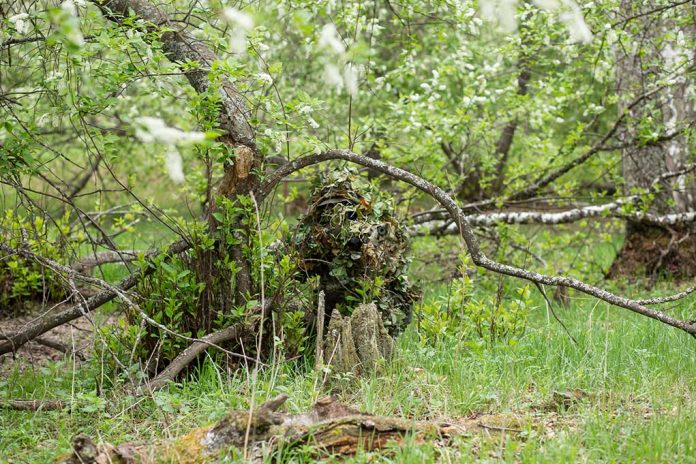 (TacticalNews.com) – Whether you hunt or not, camouflage is likely something you've at least heard about. For those who don't know, camouflage is a combination of colors, materials, and illumination used to hide something, sometimes yourself. Not all camouflage is equal, and some forms work much better than others.
There's not always a need for an elaborate design. Some camouflage can be simple yet effective, as shown in the video. As long as you consider these eight aspects when creating your own camo, you'll likely be successful.
Shape is likely the most commonly used way of identifying an object. The use of varying shapes is helpful when trying to hide, as long as you don't change the shape of whatever you're using to conceal yourself.
A silhouette can easily give away your location. A silhouette is simply a dark shape or outline that contrasts the light background behind it.
Sound is another significant part of effective camouflage, or the lack of sound anyway. Be sure to make as little noise as possible when moving to avoid detection.
Your shadow is with you most of the time. However, it's not always loyal and can give away your position, often without you realizing it. Be aware of your shadow at all times.
Shine, like a shadow, can often be overlooked. Be aware that certain items will reflect light and make you easier to spot. Even clothes can be reflective.
Your sense of smell is one of your greatest senses that is often taken for granted. However, we all have certain scents that can be used to track us and the fires we create.
The surface of the area you're trying to hide in is crucial, as well as the surface of your clothes and items. Texture and size play a vital role in actively camouflaging yourself.
Detecting movement is an instinct embedded in our brains. Something in motion will often be detected more easily than something stationary.
Camouflaging yourself is more than simply throwing on some camo clothes and finding a hiding spot, although sometimes it really is just that easy. One way to make effective camouflage is to create a ghillie suit. Check out how you can create your own suit.
Do you have any tricks or tips on how to blend into the environment? Reply to your email and let us know, we would love to hear from you!
Copyright 2021, TacticalNews.com