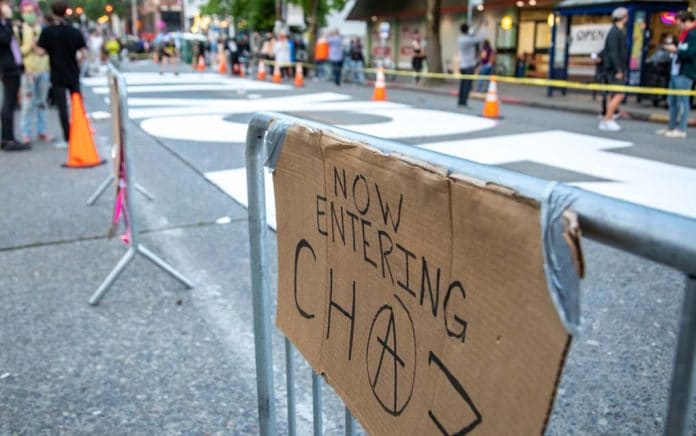 (TacticalNews.com) – The Capitol Hill Autonomous Zone (CHAZ), also known as the Capitol Hill Organized Protest (CHOP), has finally come to an end. The zone was established after multiple clashes between police and protesters, resulting in the Seattle Police Department (SPD) abandoning their precinct. The mayor, however, has finally had enough of the nonsense.
BREAKING: Seattle Police dismantle violent CHAZ district https://t.co/B0Ope33RXQ

— Jack Posobiec 🇺🇸 (@JackPosobiec) July 1, 2020
After multiple late-night shootings on Tuesday, June 30 that caused the death of two teenagers and the injury of at least three other people, Mayor Durkan declared the zone an "unlawful assembly."
The SPD told protesters at 5 AM local time on Wednesday that they had eight minutes to disperse. After multiple warnings at least 13 people were arrested for not following orders. Police have also stated there were multiple reports of violent crimes within the zone including robberies, criminal damage, and assaults.
Police released a statement saying that law enforcement officers were seen in heavier and higher-protective gear because some protesters were known to be armed and potentially dangerous. Several vehicles were seen outside the CHOP zone, with people inside carrying firearms and wearing body armor. No visible license plates were present on said vehicles, the police have stated in their investigation.
Police Chief, Carmen Best, stated it is the job of police officers to serve and protect their community, adding that clearing the zone is not the end of their engagement with protesters. Best also stated that "We must continue our efforts to build trust and redefine our roles as guardians in our city." She added she wants to help propel the Black Lives Matter (BLM) movement toward meaningful change in the community.
Protesters feel they shouldn't be held accountable for the violence that took place in the area.
Copyright 2020, TacticalNews.com