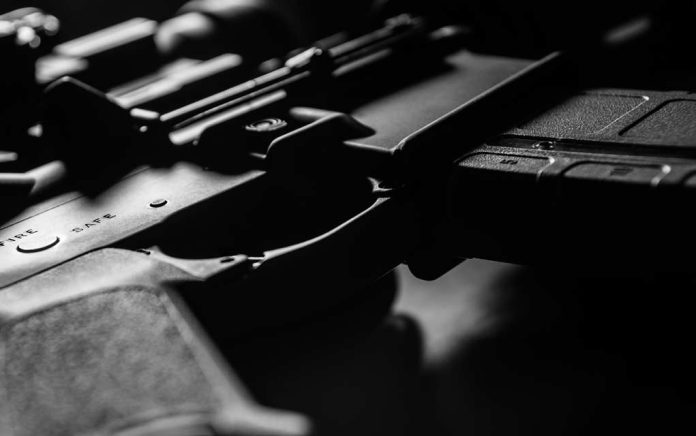 (TacticalNews.com) – Lighter and smaller pistol caliber carbines are very popular, but the CMMG Banshee is an excellent contender for the top slot. What makes the Banshee so special is that it runs like a champ with very few problems while shooting. But don't take our word for it — watch Tactical Rifleman show exactly why this gun is so impressive.
Basic Overview
This gun isn't your average run of the mill pistol caliber carbine — it means business. The Banshee uses Glock or Uzi magazines in its original format, and is capable of shooting a wide array of calibers. This gun runs .45, 9mm, 10mm, .40, and even 5.7. That's a lot of choices! Obviously, it'll only shoot what the gun itself is chambered in.
Another great thing about the Banshee is it can easily be swapped over onto an AR lower, meaning you can load PMAGs. Buy them already converted into whatever caliber you choose, or grab a conversion kit to convert your magazines instead.
If you have a Glock as your sidearm, this gun will run with that Glock's magazine as long as it's on its own platform. This makes it a great gun for preppers and anyone bugging out. The ability to switch mags between a carbine and pistol gives you a tactical advantage; you can literally drop your mag out of the pistol and shove it into the Banshee and it will run.
Ammunition for handguns is inherently cheaper, though they are often less effective. Still, they're also easier for people with a smaller frame or disabilities to operate, and that might be a good trade-off depending on your situation. Know that while the price may seem a little high compared to other pistol carbines, this gun is so much more.
Lastly, the Banshee features the same ergonomics as your standard AR. It's remarkably easy to train younger children with a gun that is basically a mini version of an actual rifle.
Conclusion
The Banshee's price might seem a little high to some folks. But given what it can do, and its incredible array of features, the price point is solid. The fact that such a broad range of calibers are readily available and you can switch magazines between it and another sidearm really makes it special. And if the only complaint is that it seems a little small, hey — you always have the option to slap it onto the AR platform. There's also the fact that handgun ammo is much cheaper, has less recoil, and is far more fun to shoot.
This gun is something special for just about everyone from your average gun owner to 3-gun competitors, tacticians, and even preppers. Given the fact that most pistol caliber carbines simply don't run well, and the Banshee has a proven track record for success, we give it a solid 10/10. Try it out for yourself to experience versatility and flexibility in action.
Copyright 2020, TacticalNews.com