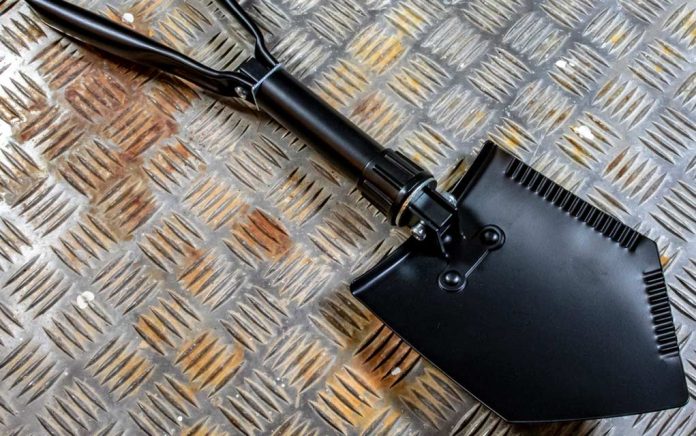 (TacticalNews.com) – Have you ever been in a situation where you need to dig, but your shovel is too bulky and awkward? How about when your e-tool isn't long enough to get the job done? All we have to say to that the Delta Shovel is here to answer your prayers.
The Delta Shovel has two material options for the head. There's either 12 gauge cold rolled steel, which is heavy and sturdy, or 6061 aluminum to give it rust protection and durability. It also includes a telescoping aluminum handle so you can easily adjust it from 24" to 37" to 51" with ease, giving it the versatility to be used in every situation.
The blade has three positions to take advantage of: shovel for digging, hoe for pulling material out or breaking up harder dirt, and stow mode for when you're ready to pack up. The connector that makes this possible is also made from 6061 aluminum. The Delta Shovel also includes a T-grip made from nylon zytel, providing a lightweight solution without losing strength.
Speaking of weight, the entire shovel only weighs 3 lbs 8 oz. in the aluminum option. The rolled steel option weighs in at 6 lbs 5 oz, making it noticeably heavier. The aluminum shovel comes in 5 colors, Rebelle Blue to support Rally Sport racing, Agate Grey, Punk'n Orange (which matches Jeeps from 2018 to present day), Chrome, and Racing Red. The steel option has limited style choices with either Agate Grey or Flat Dark Earth.
While these shovels do have a steep price, durability and versatility make them worth the cost. We give the DMOS Delta Shovel an 8/10, taking into consideration the price while also thinking about the space it will save and the usefulness of the tool itself.
Copyright 2020, TacticalNews.com