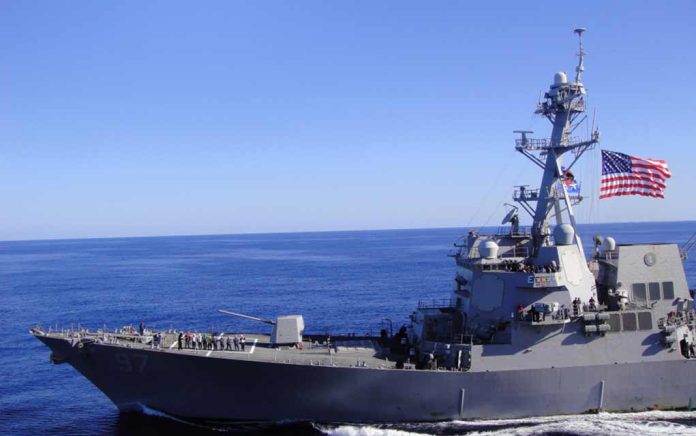 (TacticalNews.com) – Ever heard the expression that people will continue to push something just to see what they can get away with? The same is true when it comes to international affairs. Some countries push their boundaries just to see what they can get away with. And sometimes, the US has to remind them what they can't.
With oddly defensive language US SOUTHCOM announced 23 June that "while peacefully operating in the Caribbean Sea the US #Navy #destroyer USS #Nitze DDG94 conducted a freedom of navigation operation contesting an excessive maritime claim by Venezuela… pic.twitter.com/oA84C6myDu

— Chris Cavas (@CavasShips) June 24, 2020
Tuesday, in what military officials call a "freedom of navigation operation," a US Navy destroyer sailed close to the Venezuelan coast. The Arleigh Burke-class guided-missile destroyer, USS Nitze, operated within international waters in the Carribean, according to Navy Officials. It's also an area of which the Maduro regime illegitimately claims to control.
This isn't the first time the US Navy has done something like this. The combat ship, Detroit, also conducted a freedom of navigation operation off the country's coast in January.
Iran and Venezuela have been building a stronger relationship as both countries are under sanctions and dealing with the coronavirus. Meanwhile, Trump's administration has increased Navy and Coast Guard presence in the Carribean, likely due to drug traffickers taking advantage of the lawlessness of Venezuela under Maduro's control.
The US will continue to conduct operations within international law, preserving the rights and freedom for all nations to use international waters and airspace. International waters should be available for all nations to use; it promotes a fair and just international order, as stated by Navy officials, also ensuring the US Navy can conduct missions in the area, such as disaster relief and humanitarian assistance.
Copyright 2020, TacticalNews.com