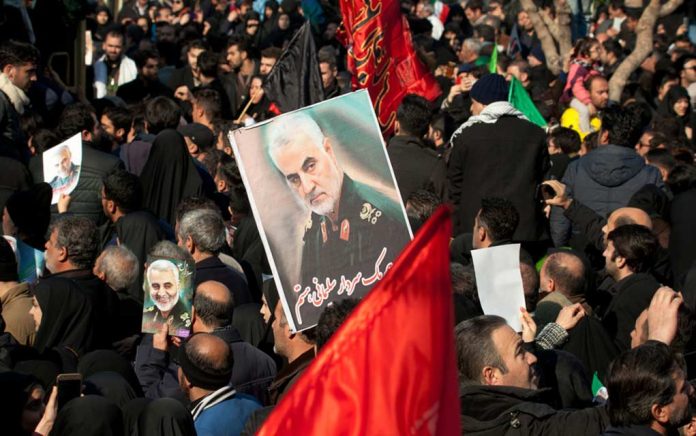 (TacticalNews.com) – In a stunning display of reckless arrogance, an Iranian military official posted an inflammatory statement threatening the United States. In a time of increased tension between the two nations, his announcement shows hostility between them will likely remain high.
At issue was the recent demise of Iran's top general, Qassem Soleimani, who was killed in a drone strike carried out by the US in January. Since Soleimani's death, Iranian officials have vowed to avenge his "martyrdom."
POTUS has promised a massive retaliation, should Iran choose to strike. Iran Vows 'Hit' on All Involved in US Killing of Top General https://t.co/4DMerEsBYo

— Auburn OSINT (@auburnosint) September 21, 2020
Iran's paramilitary Revolutionary Guard posted the statement on its website on September 19. The statement quoted the guard's chief, General Hossein Salami. "Mr. Trump!" he began, "Our revenge for [sic] martyrdom of our great general is obvious, serious, and real." 
General Salami went on to threaten to go after everyone involved in the drone strike that killed Soleimani.
US Commander in Chief, President Trump, warned, the US would retaliate against any Iranian attacks using force "1000 times harder."
The harsh nature of the president's response was prompted by a separate report stating Iran was targeting South African ambassador, Lana Marks for assassination.
General Salami denied the claim that Marks was targeted for assassination. However, he did affirm there would be retaliation to avenge Soleimani's death.
It is not yet clear what General Salami's comments mean in real-world terms. But whatever Iran has in store for us isn't good. One would think that Iran wouldn't target the most powerful man in the world and bring about a war with the world's sole remaining superpower.
Copyright 2020, TacticalNews.com