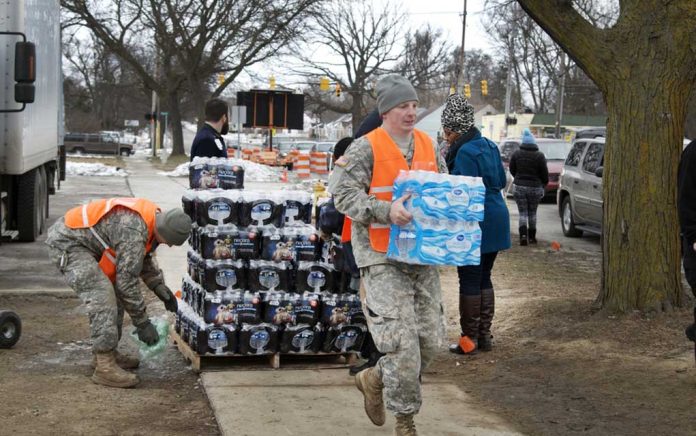 (TacticalNews.com) – Six years in the making and there are finally results that, in all reality, should have been reached long ago — guess late is better than never. After years of being ill, and relying on bottled water to cook, clean, and bathe the people of Flint, Michigan are finally being heard and possibly receiving restitution.
#BREAKING: A major announcement is expected Friday of a $600 million deal to settle Flint water crisis civil lawsuits. https://t.co/qNtfqvNLC9

— ABC12WJRT (@ABC12WJRT) August 19, 2020
In an announcement that probably brought a smile to many faces, the state is set to pay $600 million to the people of Flint. The money is largely aimed at the children of Flint who were inadvertently poisoned by the lead in their water after the supply was changed from Lake Huron to the notoriously dirty Flint River. The crisis started six years ago as a result of switching the water supply and has since drawn national attention.
No details regarding the settlement have been released; lawyers and public officials have declined to comment on the case. The $600 million settlement awaits approval from a federal judge, and is expected to pay tens of thousands of residents in Flint. Individuals that are eligible will receive a payment amount depending on the level of suffering and damage caused by drinking the water. The settlement was finally reached after 18 months of negotiations meant to answer the question of "what are the victims of Flint owed?"
The crisis started in 2014 when the city was in a financial crisis and public officials, with a state-appointed emergency manager at the reins, switched the water supply for the city from Lake Huron to the foul Flint River. No corrosion controls were added to the water, and as a result lead and other chemicals from the old pipes found their way into the drinking water of the people in Flint, Michigan.
Citizens of Flint didn't take long to realize there was something off about their water; it tasted metallic and was discolored, often green or light brown. Soon mysterious symptoms such as hair loss, skin rashes, and illness affected many people. Elected officials were confronted about the crisis but simply brushed it off and swept it under the rug.
Tests conducted months later showed increased levels of lead in the blood of children, which drew serious concern. Researchers, scientists, and a local pediatrician, Dr. Mona Hanna-Attisha, raised warnings that were originally thrown out by local and state elected officials. Finally, in the fall of 2015, Governor Rick Snyder was forced to admit the water of Flint was not safe, after an overwhelming amount of evidence was brought to light.
Since then both state and local officials have done what they could to help the residents of Flint recover from the crisis. The water source was switched back to Lake Huron, which is treated in Detroit. However, the people of Flint still use bottled water instead of tap water for everyday use, due to their lack of trust in their local officials.
Thousands of residents have filed lawsuits against Michigan, payments from the settlement (if approved) are expected to start rolling out during the Spring of 2021.
Copyright 2020, TacticalNews.com