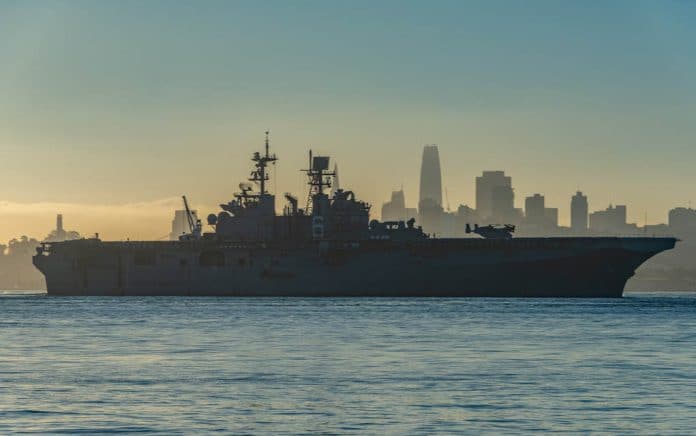 (TacticalNews.com) – Over the weekend, 17 sailors and 4 civilians were injured while aboard the USS Bonhomme Richard. The amphibious assault ship is docked in San Diego, California. Fortunately, the injuries sustained to the sailors and civilians are not serious.
As of 3:30 a.m. PST, firefighting teams continue operations on board USS Bonhomme Richard (LHD 6) in addition to aerial firefighting operations that commenced via helicopter water bucket at 10:30 p.m. PST with two helicopters from Helicopter Sea Combat Squadron THREE. pic.twitter.com/WghSnajEZf

— Naval Surface Forces (@SurfaceWarriors) July 13, 2020
Sunday morning, at about 8:30 am, a fire broke out aboard the ship, as stated by Naval Surface Forces officials. Those injured in the three-alarm fire were sent to a local hospital to be treated. The cause of the fire is unknown although, the San Diego Fire Department tweeted that there had been an explosion on the ship.
The USS Bonhomme Richard was docked at Naval Base San Diego to undergo routine maintenance. Around 1 pm the Navy destroyers, Russel and Fitzgerald moved away from the USS Bonhomme Richard.
Navy officials did not provide details of what injuries the sailors sustained, but the local fire department stated that the injuries varied in nature. The name of the hospital where the victims are being treated has not been named.
The Bonhomme Richard had about 160 people aboard it when the fire started. The entire crew numbers around 1,000. A Naval Surface Force for US Pacific Fleet, Mike Raney stated that the entire crew has been accounted for.
Copyright 2020, TacticalNews.com