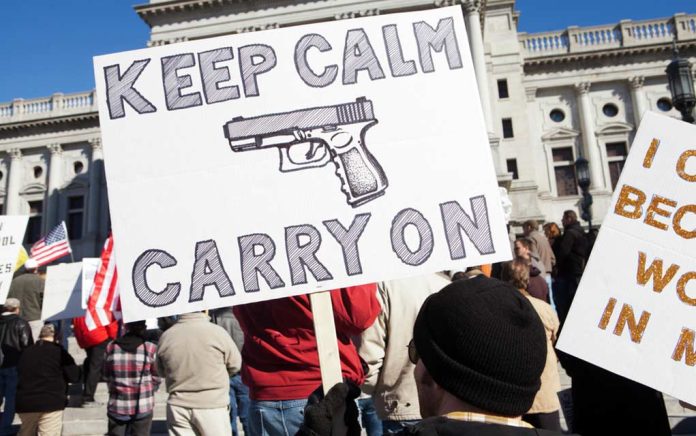 (TacticalNews.com) – The Founding Fathers included the Second Amendment's provisions in the Bill of Rights in order to preserve our ability to protect ourselves and the republic from tyranny.
Gun rights advocates often hold rallies in support of our "Right to Bear Arms." However, the turnout at an annual rally at Pennsylvania's capitol building fell short of expectations.
Could the movement be losing traction? Or, is there something else at play?
A few hundred people brought their support for gun rights to the steps of the Pennsylvania Capitol building for what is an annual rally. https://t.co/OQqwQ6P4tD pic.twitter.com/6kqhfC1BUw

— NBC10 Philadelphia (@NBCPhiladelphia) September 29, 2020
A crowd of a few hundred gun rights supporters gathered on the steps of the capitol building as part of the yearly Rally to Protect Your Right to Keep and Bear Arms. Dozens of lawmakers from across the state joined the group in a show of support.
The rally targeted Democratic Governor Tom Wolfe and state legislators opposed to gun rights. Attendees were provided with updates on the legislative efforts by gun control advocates.
Stephanie Borowicz, the Republican State Representative for Clinton County, emphatically stated Gov. Wolfe needed to read Pennsylvania's Constitution. A few Democratic lawmakers attended the rally like Rep. Harry Redshaw who cheered on the crowd, urging them to not give up.
Rainy overcast weather coupled with the coronavirus likely caused the lower than usual turnout for the event. In years past, busloads of people arrived to attend the rally. This year there was no shuttle offered.
Americans concerned about the future of gun rights should consider reading up on their rights. The Second Amendment faces increased opposition, it's up to the American people to stand up for what's right.
Copyright 2020, TacticalNews.com