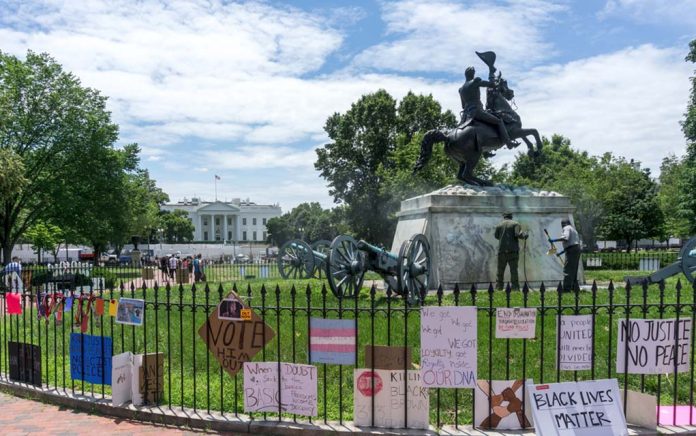 (TacticalNews.com) – President Trump recently signed an executive order to protect American monuments. The action has a retroactive effect, meaning it will apply to those who defaced and vandalized statues before the order as well as after. These arrests come not long after the June 24th order signed by President Trump.
Meet Jason Charter, the 'ringleader' of the #Antifa group that attacked the Andrew Jackson statue – was arrested this morning at his residence (probably his moms) by @FBI https://t.co/jUu2GKLMGS… pic.twitter.com/S4eqrpWlRm

— Red Nation Rising (@RedNationRising) July 2, 2020
A statue of Former President Andrew Jackson has been deemed racist and offensive. Of course, the only thing protesters could think to do was tear it down. The attempt was led by Jason Charter, who publicly made it known he has ties to Antifa. Charter was arrested at his home without incident by the FBI and the US Park Police. He played a leadership role in the June 22nd attempt to tear down the Jackson statue and will now face those charges.
Federal law enforcement stated the group was very organized, with Charter on top of the statue directing people. Officials say the group was using multiple devices on the statue. They included things like acid, straps, chisels, and chains.
Another man active in the riots is Graham Lloyd, a 37-year-old who turned himself in to authorities on similar charges in Portland, Maine. His initial appearance in federal court was on Wednesday. He is also accused of the destruction of federal property for his part in the attempt to bring down the Jackson statue.
Because of Trump's executive order protecting American monuments, both of these men could face sentences of up to 10 years. That's a great motivation to start talking about the details of who is really in charge of the chaos.
Copyright 2020, TacticalNews.com