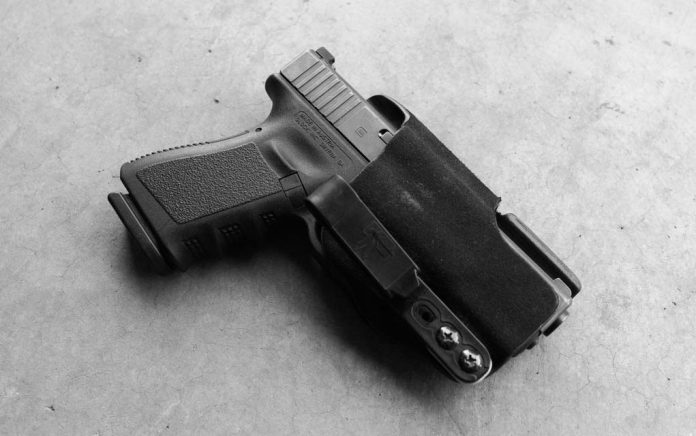 (TacticalNews.com) – A few weeks ago, Galco introduced a new product variation called the Combat Master, which is designed to fit a 2-inch wheelgun. But what's all the hype about? Find out below.
Whether carrying for primary or as a backup, the Galco Ankle Glove now comes in fits for the Kimber K6s 2" revolver for concealed carry.

READ MORE: https://t.co/xsMnPkC9An pic.twitter.com/ngyAdkmVAr

— PersonalDefenseWorld (@PDWdefense) December 7, 2020
Features
The new Galco Combat Master ankle glove is specifically designed to enable the user deep concealment of both a primary or secondary handgun. For those who conceal carry and work in a seated position all day, the Galco ankle glove offers a more comfortable carry method.
The hook-and-loop closure ensures the ankle glove is secure, and its wide ankle band is made from breathable neoprene. Thanks to that breathable material, the ankle glove is comfortable in the summer heat.
The holster features a detailed molding, which helps secure the firearm in place, and a reinforced thumb break for easy accessibility.
Pricing
Something this good has to be expensive, right? Well, you wouldn't be entirely wrong. The Galco ankle glove comes in at a retail price of $130. So it's certainly not the cheapest holster on the market. But hey, you get what you pay for, and with Galco, you're sure to get a quality product.
Conclusion
If you're in the market for an ankle holster, Galco has you covered. Of course, there are several other ways to carry a handgun, each with its own set of pros and cons.
However, not everyone wants to carry a handgun. Check out this self-defense tool if you're uncomfortable or unable to carry a firearm.
Copyright 2020, TacticalNews.com