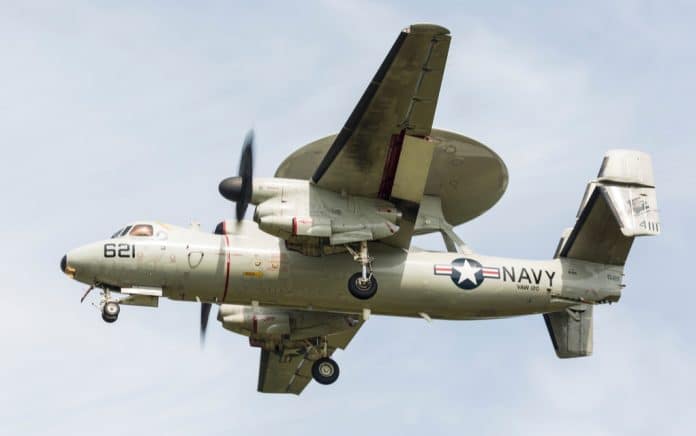 (TacticalNews.com) – It's always good to hear that our US military made it back from an exercise or warzone safely. Even when the event is a simple training session on American soil (or the air and sea that surrounds it), the risk for disaster always exists. The situation we have to share with you today clearly showcases the truth in that statement.
From @AmericanMilU In Military site: Navy E-2C Hawkeye Crew Found Safe After Plane Crashes in Virginia https://t.co/ouiUkfNvBq #AMUdisasterCREW pic.twitter.com/klTQG40jos

— American Military University Disaster Crew (@AMUdisastercrew) September 1, 2020
On Monday, August 31, a Navy-issued E-2C Hawkeye carrying four servicemen, two pilots, and two crew members crashed just north of Norfolk, Virginia. All managed to bail out of the aircraft successfully and safely; no buildings, property or individuals were harmed.
Navy officials first reported a crash near Wallops Island around 4:05 pm. Jennifer Cragg, Naval Air Force Atlantic spokesperson, confirmed that medics evaluated the crew on site. While shaken up, there were no injuries as of that time.
The cause of the crash is still under investigation. The Hawkeye became operational in the early 1970s; most have had repeatedly upgrades to sensors, propellers, and engines since then. Yet, this is the second incident in Virginia in the past month. On August 10, a Huey based in Maryland had to make an emergency landing after taking groundfire. That incident left one crew member injured; it, too, remains under investigation.
Copyright 2020, TacticalNews.com