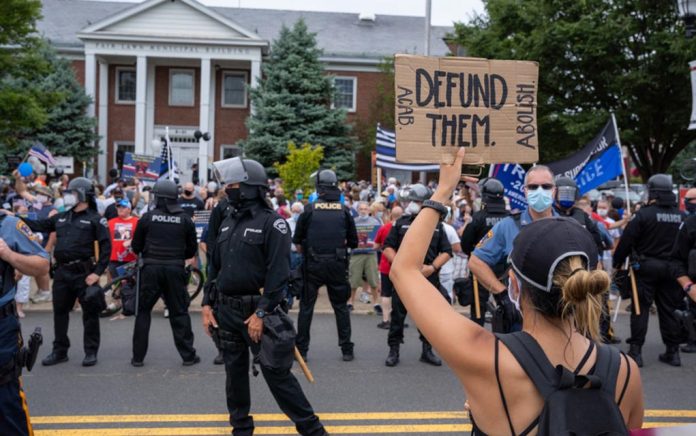 (TacticalNews.com) – As more Democrat-run cities look toward defunding their police departments, people are looking to defend themselves. This is one of our guaranteed rights, but that doesn't stop these places from making it difficult. With crime on the rise, people are getting concerned for their safety, and want to protect their families.
Liberal Mayors/Governors tell you to support & bend a knee to domestic terrorism, and self-defense is racist.#LiberalLogic#VoteRedToSaveAmerica

In 'defund police' cities with rising crime, getting a gun no easy task: 'Near-impossible to get a permit'https://t.co/MU6dLjrGY0

— Mr. Coffee (@ctcoff99) August 10, 2020
As radical groups call to defund the police, crime rates are increasing and people are buying guns in record numbers; trends which seem to be unquestionably related. Background checks regarding firearms were up to 3.9 million nationally in June, the highest number on the two-decade record.
July reported 3.6 million firearm-related background checks, sitting it nicely in second place among the highest numbers recorded. Even with these record numbers, in many Democrat-dominant cities obtaining a firearm is proving difficult. Some say the reasoning is due to tight gun laws, pandemic-related pileups, and even the lack of stores.
Seattle recently made public the City Council's plan, one that could see up to 100 officers removed from the force. The council also stated there would be fundamental changes coming in 2021, modifying the way the department operates. Meanwhile, aside from larceny-theft, Seattle has seen five-year monthly highs in other crimes, such as vehicle theft and arson.
Even with crime on the rise, buying a gun in Seattle is difficult. Despite Washington's preemption law regarding firearms, Seattle found a loop-hole to suppress the Second Amendment by integrating a sharp tax on the sales of guns and ammo. This has caused all but one gun store to leave the city; the one left has a second location in Tacoma, where the Seattle stores send customers to avoid the outrageous tax.
Seattle isn't the only city where police look to be defunded or disbanded altogether, nor are they the only city seeing a steep increase in crime, and they're not the only city making it difficult to arm yourself. Minneapolis, New York, Los Angeles, and San Francisco, also fall into this category. Of course, LA and San Francisco are under California's preemptive gun laws, which already make it difficult to purchase and own a firearm.
Copyright 2020, TacticalNews.com