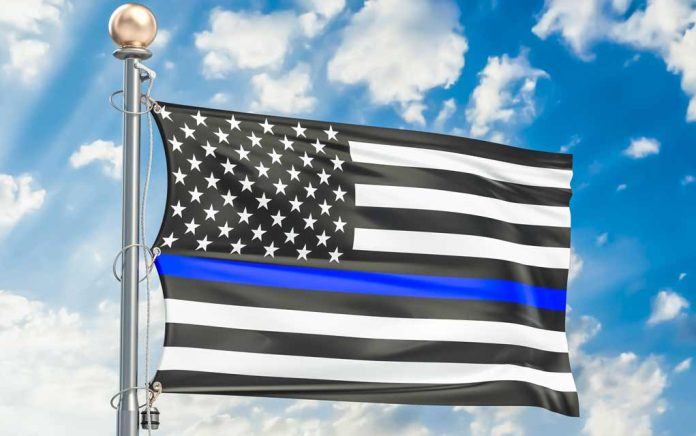 (TacticalNews.com) – This is the United States of America, where freedom of speech is a first amendment right. That is, unless your opinion doesn't match what radicals think is appropriate. This was the case in Hingham, Massachusetts where flags supporting the police were forced to be taken down.
Somerville is not allowing "thin blue line" flags to fly on the city's fire trucks. Meantime, firefighters across Massachusetts are banding together to fly the flags in honor of police officers killed in the line of duty. https://t.co/2BrdrwKjgH @THE_PFFM https://t.co/idMWFyl3uH

— Mike Saccone (@mikesacconetv) August 3, 2020
For the two-year anniversary of Michael Chesna, a Sergeant for the Weymouth Police who was killed in the line of duty, the local fire department flew flags representing the thin blue line from the back of their fire trucks. Chesna was investigating a car accident when he was attacked by a suspect with a rock, eventually turning the officer's own weapon on him, and killing him. A resident sent letters to Hingham's leaders calling for the removal of the flag because it was a symbol of white supremacy.
The flag is a black and white version of the American Flag, with a blue line for the middle stripe, supporting law enforcement personnel who hold the line between peace and chaos.
Steve Murphy, Fire Chief, and Chief of Police Glenn Olsson, according to The Patriot Ledger told personnel they had to remove the flags under the premise that they went against town policy forbidding political messages on town property. The firefighters' union resisted for days to remove the flags, because no member was willing to sacrifice their moral fortitude.
No firefighters wanted to take down the flags, so cops from the Weymouth Police Department were sourced to do so. The officers came to assist the removal of the flags Thursday morning, the union later stated that it didn't want to risk the flags being taken down in a disrespectful manner.
Copyright 2020, TacticalNews.com