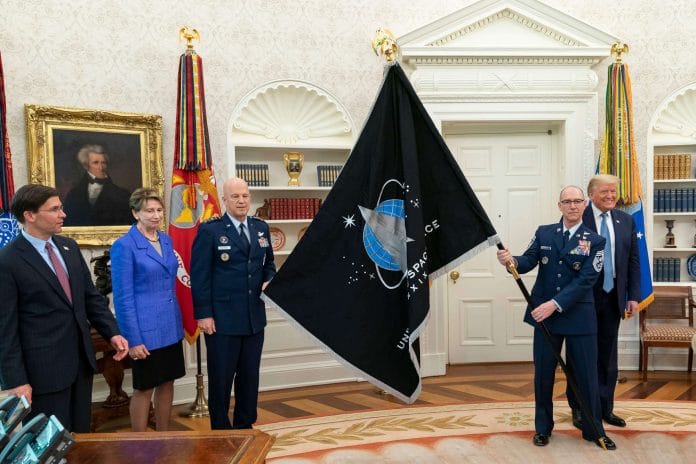 (TacticalNews.com) – The US Space Force (USSF) has been given its first foreign deployment since its founding in December 2019. Unfortunately, it's not a deployment to space. However, despite the skepticism and mockery surrounding the USSF, it will prove invaluable to our military.
US Space Force deploys to vast new frontier: Arabian Deserthttps://t.co/PqIQEeq3NP

— Iowa's News Now (@iowasnewsnow) September 21, 2020
The USSF welcomed 20 airmen to its first foreign deployment, located at Qatar's Al-Udeid Air Base. The new frontier, the Arabian Desert, has already seen its version of a "space war" during 1991's Operation Desert Storm. The US once again faces threats in the region with Iran's efforts to jam, blind, and hack satellites and their associated missile programs.
For decades the potential weaponization of space raised concerns. Today, space is becoming more and more contested, bringing the need for a new force to defend American values and interests there. Tensions have been on the rise between Iran and the US, likely leading to the decision to deploy USSF service members to Al-Udeid Air Base.
Earlier this year, Iran launched its first satellite into space, bringing to light the possibility of a secret Iranian space program. Iran has come under sanctions set by the Trump administration, who accused them of using the civilian programs to hide the development of ballistic missiles. Russia and China have also been creating ripples in the international pond regarding space.
Defense Secretary Mark Esper warned Russia and China could be developing weapon systems designed to knock out US satellites, something that could result in debris falling from the sky. This situation could also cause lapses in communication impacting everything from weather forecasts to nuclear weapon controllers.
The development and growth of the USSF is critical to our way of life, whether we realize it or not. American cannot afford to let up its defenses, particularly when it comes to space.
Copyright 2020, TacticalNews.com